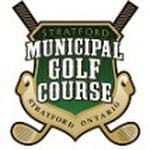 Muni Minute
Hello Everyone
I don't even know where to start with the amount that is going on around the course these days!! As most of you have seen the lawn bowling construction is well underway, along with the construction of our new Driving range tee. I do apologize for the shortened range at the time or very full parking lot of machines and dirt etc. but when this is all done we will have a greatly improved facility. We also saw a huge Tent up this past weekend for our former worker Dori Nelson and member Joey Hishons wedding, Congratulations you two on your amazing day and thank you for choosing the Muni to host your special day!! Lastly on the construction front you will notice that this week we have started to remove and replace our asphalt entrance, it had become an eye sore over the years with ruts down the sides etc. Our new 10 foot wide concrete entrance will give us a fresh new look or first impression to guests along with being double wide so cart traffic can go both ways without leaving the paths. Again I apologize for any inconvenience while this is being installed but we will have to us the main entrance till this is complete.
Our Jr. League team tryouts began last night from 4:30 to 6:30pm and we will have 2 more remaining practices on Monday June 18th and Monday June 25th before the team is selected and event dates start in July!! We encourage anyone who wishes to participate on the team to attend these dates.
Lastly our events board in clubhouse is filling up please make sure to check it for event details, sign up sheets etc. We currently have our Auction Scramble, and Men's invitational coming up very quick, along with our weekly men's and ladies leagues and Weekly Sr. Games.
Dates to Remember
June 18th- 4:30pm-6:30pm- Jr Golf League Tryouts
June 23rd- Auction Scramble info in clubhouse
June 25th- 4:30pm-6:30pm- Jr Golf League Tryouts
July 7th- Men's Invitational 
Cheers