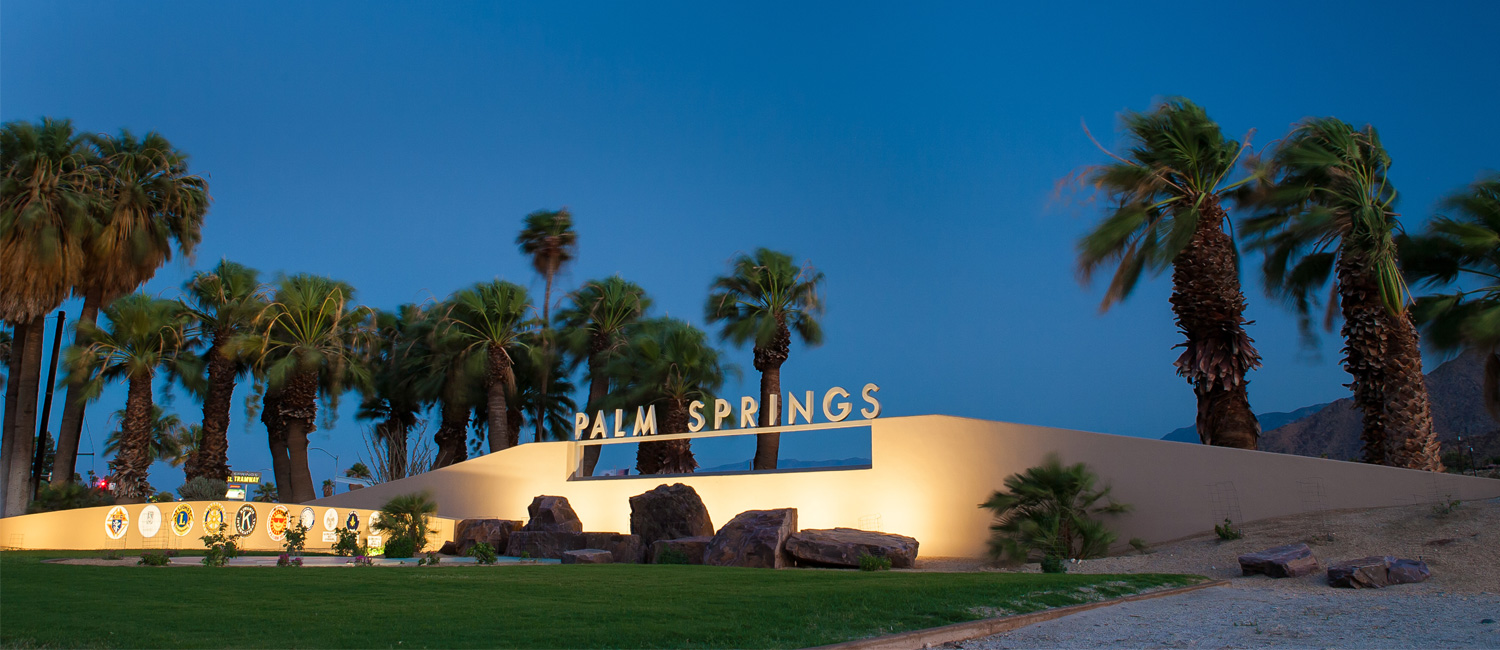 Palm Springs Golf Vacation
Just over a month ago I was asked if I wanted to join two of our Muni Members and one staff member on a trip to Palm Springs CA. being as I have a very flexible winter schedule and last year I ventured south for a winter golf break for the first time to Alabama and ended up loving it so much that a month later I was on my way to Florida it was an easy YES!! With that being said I was worried about a trip to Palm Springs getting on the high side of a pricey golf trip, that left very quickly when I seen everything Palm Springs has to offer!!
We were able to secure a flight from Toronto to Palm Springs Direct/Return for $400 which was a steal, we really had to look and be flexible to find this but every Monday Air Canada does one round trip to Palm Springs making a Monday to Monday trip very easy. Palm Spring also has a million AirBNB offering mountain views, pools and when split 4 or 8 ways for a golf vacation become very cheap.
Now to the good stuff the Golf, now it may be a little basis as I can only speak for the course I saw or played but when Palm Springs says they are the golf capital they are not lying, it was very hard to go more then 2 or 3 blocks without seeing another golf resort or course.
The first course we ventured to was Tahquitz Creek Golf Resort which offers the Legends course and the Resort course. It was an easy 7 minutes from the airport and made for a great first round straight of the plane. It was $39 dollars for 18 holes with a cart and 2 draft beers. It was a fairly open course that only over seeded tee's fairways and greens, but made for a great first round to knock off the winter rust, and still offered great mountain views and greens.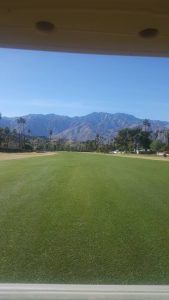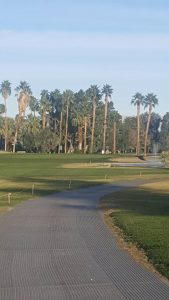 Day 2 we where able to play Mission Lakes Country Club the course that our AirBnB condo was located on. (this was approx. 15 minutes from Palm Springs). Mission Lakes was located at the base of one of the 360 degree surrounding mountains and had 3 hole actually perched in the mountain which offered breath taking views of the Coachellla Valley and a par 3 number 12 that played a 140 foot drop from tee to green. This course was in fantastic shape and I highly recommend it on your tour of the area for a round. They over seed the whole course and nothing was out of place. The cost here is $69 for a non member for 18 with a cart but well worth it.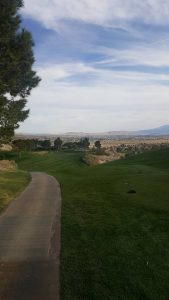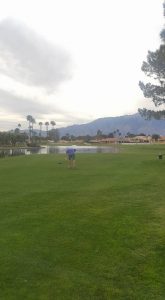 Day 3 was the Mother load of a golf day when we were able to play PGA West Stadium course home of the Career Builder Challenge won this year by Jon Rahm, and it was everything you see on T.V. and more. Mountain views unbelievable conditions, and the challenge of trying to post a score from where the pros play. (this is not easy, hitting the ball was fantastic but huge extremely fast greens with mountain influenced breaks made chipping and putting a whole new thing). We were lucky enough to find a Golfnow deal for $95 dollars but this regularly runs in the $200 range , but is an experience that can't be beat. PGA West also offer 4 other course to play at the resort and all are in outstanding shape.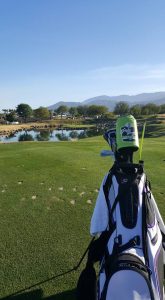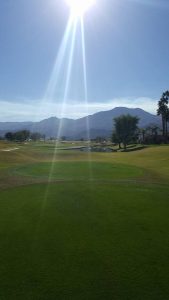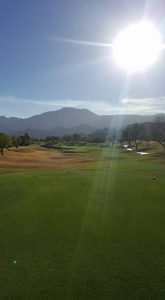 Day 4 we played what I thought was the worst of the course we played but still offered a fantastic round at Desert Dunes by Robert Trent Jones Jr. It was labeled as a desert style links with natural desert feet off fairway and they were not lying. The course it self still played extremely well with views of the mountains, and a coyote that made an appearance but the natural vegetation and over growth just didn't fit my eye and made many tee shots blind. With that being said though this course has held U.S. open qualifiers, and was around the $50 mark for a 7am tee time.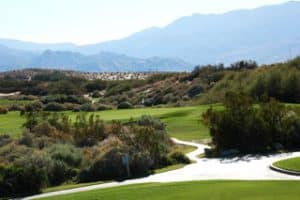 Day 4 we were also able to sneak in an afternoon Par 3 course a Cimarron Golf Resort this was fantastic and one of use was stated saying I didn't realize we were playing a championship par 3 course whatever that is but it offered 4 sets of tees and par 3's that ranged from 120 to 245 yards and a course that was manicured to the finest like it full 18 hole championship course beside it.
Day 5  we ventured about 45 minutes to Indio to play Terra Lago home of the  2001 skins game between Tiger Woods, Jasper Parnevik, Greg Norman, and Colin Montgomerie, this was a great golf course which was $53 for 18 holes with a cart, and offered a different look with rolling sand dunes and well placed water.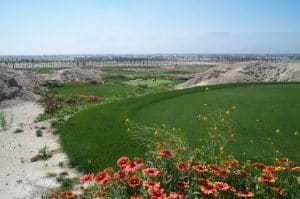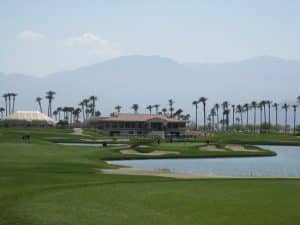 Day 6 we made a made an hour drive to the town of Riverside to play Oak Quarry this is a must if your in the Palm Springs/ LA area. It was built on the side of a mountain and offered views that cant be beat. The cost of $55 for 18 holes and cart was worth every penny, just try not to lose balls off the side of some of the 200 foot drops just feet off the fairways.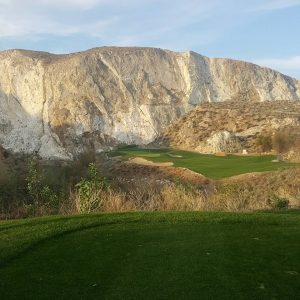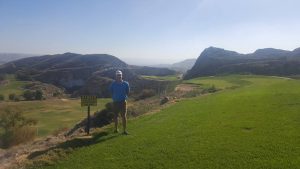 Day 7 saw us play a second round at Mission Lakes to end the trip and it was extremely nice to get a second look at a course and be more familiar with the breaks etc..
Courses that we had a chance to see and not play that need a mention are Escena, The Classic Club, Cimarron the Boulder course, and many many more.
Away from the golf for a second Palm Springs offered a ton of things to do with a weekly Thursday night market downtown which closes a whole street for 6 blocks, outlet malls just outside of town, and a tram to the mountain top with unlimited hiking biking etc. there is endless fun in the sun.
Till the next adventure or if 4 more want to join us next year.
Kyle